The stimulus money still has not arrived in my corner of the world and thought I'd scan some photos into the computer just for grins.
For a long time I carefully documented each frame-bike and the customer's info, then for a long time I quit documenting as the retail end of the business consumed huge amounts of time, which relegated some tasks to the circular file. Here's a sampling of some of my early work.
Click to enlarge photos. Click again for super size and fries..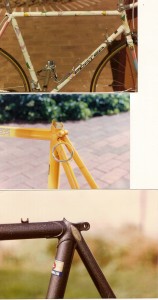 These first three are: A Columubus SLX with full Campy group and arguably one of the first paint over weird design stuff paint jobs. Next is a 3 color fade MAX frame with internal routing of brake cable. And last in this group is a Columbus SL with brass details.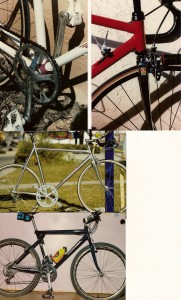 In this group are: a two tone track frame of Columbus PL ( an early Fixie, as it has H2O bosses for around town use),  a Columbus Air set with chromed fork and black anodized Campy group, then a 26″ wheeled tri-bike of clear coated MAX and lastly a MAX OR mountain bike (mine) which I still have and still don't ride much.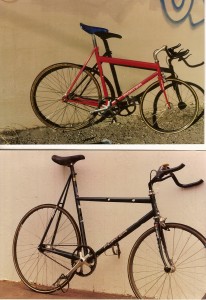 The red TT bike is a bunch of assorted tubes I wanted to use up. Close inspection of the fork will reveal my earliest prototype of wind control of spinning wheels. It was/is essentially the same concept that Lance Armstrong's aerodynamist  John Cobb subsequently did.  I recall sending a letter to Cobb offering some help on this and they responded with ugly letters from some Swiss law firm. Needless to say, I withdrew my offer.
The gray Pursuit frame has 45 assorted holes, actually perpendicular tubes, through it. Not something to ride on cobbles. It's soooo stiff.
The last two are a tiny 48cm MAX with no toe clip clearance and another early frame with Letraset  decals and more early on brass inlay (fork crown).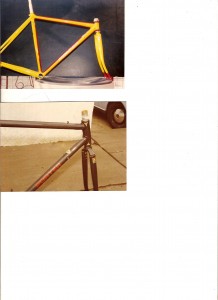 Here's a Black and White of the 1st hand made mountain bike in New Mexico. It was called the X1 …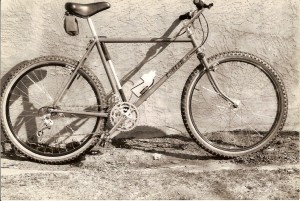 Here's a shot of a gaggle of Porter's on the back porch of the 1st bike store..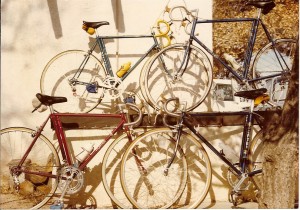 This was my bike, for a while. It has the campy 50th Anniversary group.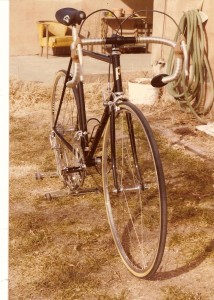 This one is a hoot. That's me on the door stoop of the 1st location of the Harvard (street) Bike House. The building (house) was shared with a used book store. About a block away from the University of NM. Across the street from the Purple Hippo, where Susan from the Seinfeld show used to work.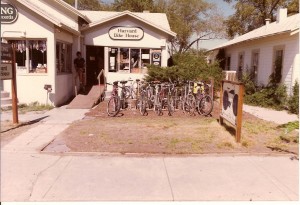 I'll add more as time and desire permits. Enjoy.
Here's a 80's TT frame (Columbus AIR) that showed up on my doorstep today for a repair on the seat clamp. A common problem on the aero seatposts which had poor clamping.
I'd forgotten about this whimsical paint scheme.
Dave

Comments (2)