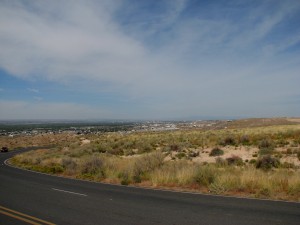 From the south end of the city looking NW back to the Rio Grande Valley and downtown.   (Click on photos)
The Sandia Mountains from mid town looking North.
From the valley looking NE
Canadian Geese on their migration south.
View along the Bosque bike path through the city center.
here1//maps.google.com/maps?client=firefox-a&rls=org.mozilla:en-US:official&hl=en&tab=wlhttp: Control C this 2909 Arno NE, Albuquerque, NM, 87107 then Control V it into the Google browser. The shop is the building with the black coyote fetish on the outer wall. The house sits way back from the street.
Here's the shops (near end) and house after a big snow storm in Dec. of 2006.