I have decided to attend the 2011 San Diego custom bike show as an exhibitor.  My last booth was probably an Interbike in the eighties.  Any way, it was suggested by a few that it would be cool to take a couple of the old  record bikes.. I still have a half dozen of them here in the shop. I dusted this one off yesterday. It's probably one of the oddest of the bunch, but it did set a record the first day on the track. Oddly the men didn't like the ideas, but the women did. Don't ask me.. Carol Anne Bostick rode it to two records on two different dates. see
It is Columbus EL tubing.  Has some sheet metal fairing/gusseting, has a 24″ front wheel (which needs to be cleaned up), it has a gazillion holes through it (which should pique the ire of some on the CR list) and it has an eccentric BB. This last feature was an attempt to make some adjustment in seat tube angles for different riders. It added a lot of weight, but was located well below the axle line, so it added some noticeable stability with a lowered center of gravity. And note the skirts on the fork tips.. This was done after wind tunnel tests showed the air flow went up the blade instead of remaining in a horizontal flow..
Here ya go…
I'll put this in the running for making the trip.. Perhaps a vote is in order as the showtime nears.. dp
I got the 14 foot ladder out and got his bad boy down off the wall the other day. It was so filthy with dust that I'd forgotten it had a pretty cool fade paint scheme.. This one was used exclusively for track record breaking. The most notable is Kent Bostick's  100 kilometer record. Like some of the other "record" bikes this record is 20 years unbroken, partly because the UCI has stopped doing a 100K event and second is because riding 60 miles at full bore is a really tough challenge, though the popularity of brevets would indicate otherwise.
Kent's time is 2 hours, 9 minutes and 11 seconds  about 28 mph average! In comparison the UCI record held by Ole Ritter was 20 minutes slower.. Kent, you the man!
Here's some pictures:
It is Columbus MAX tubes, Cinelli cast BB, Zeus track dropouts, streteched Kevlar disc wheels (supplied by Scott & Vickie Gordon), Shimano drive train (supplied by Shimano-Wayne Stetina, Continental Olympic and Panaracer 26″ front tubulars  and a very early CF seat post. The whole package was 15 pounds.
This next one is a little different, but one that caused both great angst for me and great satisfaction.
The complete story of the bike is in an earlier blog post if one cares to go back a ways.. I'll try to link to it before I run out of time tonight. Here:
To make a long story short, this is still after 18+ years the National Tandem TT champ.. and here are some pictures of how it's set up now for riding with anyone who's daring enough to trust a half blind captain…
It's all Columbus MAX tubing except the oval boom and the middle seat stays which are fork blades as I recall.
I got this from Pino Morroni. It's part 3TTT and part Pino and is very handy for fitting different riders. Also a stayer brace is added to stiffen the bars, which as tandem riders know can deflect a bit with the mass at hand.
More choke holes and skirts.. what on Earth was I smoking?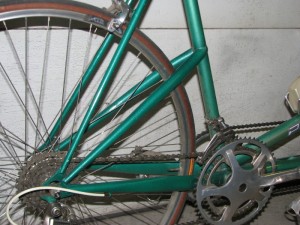 I worried that the Max chain stays weren't up to the job so I added a second set of stays..
One of the stiffener tubes can be seen in the boom tube. One can click on the photos to enlarge them, then use the "BACK" arrow to return to text..
and lastly for those of you curious about the handle bar stem another shot for you..
I'd like to have another of those MAVIC headsets.. a real work horse..
that's it.. Dave

Comments (2)